In an effort to provide information to new prospective customers as well as to provide ongoing support to our existing customers, we are happy to offer the following Webinars for your consideration.
---

Hubshare Webinar Demonstrations
Businesses have an increasing need for their employees to be able to collaborate, at any time, from any place. With the rise of consumer file sharing platforms it is essential that businesses find a solution that meets their security demands.
Having one centralized professional work space where files can be shared, and information, comments and ideas can be exchanged will create a coherent line of messages and systematic collaboration. Choosing an enterprise solution that meets tight security demands prevents the risk of sensitive information being compromised.
Register To Attend A Hubshare Webinar – Click Here
---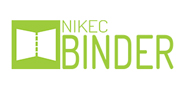 Nikec Binder Webinar Demonstrations
Nikec Binder helps you manage and organize your documents, by collating files into a single electronic Binder that mimics a traditional ring binder for your ease of use.  Nikec Binder is the perfect tool to aid your less paper journey and enhance your business efficiency.
Register To Attend A Nikec Binder Webinar – Click Here
---
Existing clients from various industries can come together to ask questions and discuss ways to gain the most benefit from using the Nikec Binder program. This could range from installing the software in a number of different environments, to user use cases, to workflow ideas, or to just share some ways that they have found their Binder program to be useful to them and their company / firm.
Register To Attend The Nikec Binder User Forums – Click Here (Customers Only)
---
Want to learn how to use the Nikec Binder program, or just want a refresher?  Watch recorded training on how to create, navigate, edit, search, annotate, publish, share and work with your original files no matter where they originated from, all using the amazing Nikec Binder program.
Watch A Recorded Nikec Binder User Training Video Now – Click Here